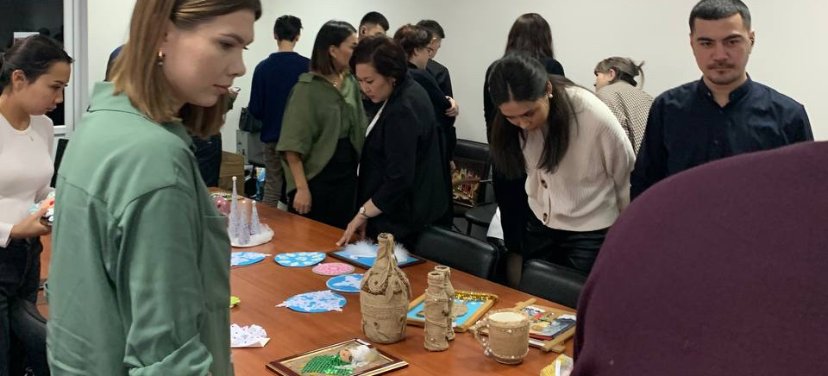 Charity exhibition of pupils works of the supervised center "Ayalau" at the head office of Atameken-Agro JSC
Atameken-Agro JSC continues to be socially responsible and actively participates in the social sphere of the life of the city, districts and villages. for 15 years Atameken-Agro has been supporting the Ayalau Center, which helps individuals over the age of 18 with disabilities to become full members of society. This center has 130 beneficiaries of special social services, including 67 children aged 1.5 to 18 years and 63 people over the age of 18 with neuropsychiatric diseases. As part of the assistance to the Ayalau Center the company buys furniture, clothes, blankets, stationery, radiotelephones, toys and much more.
The main task of the center is to ensure the readiness of the wards to absorb new knowledge, skills necessary for physical, mental, spiritual, moral and social development, and adaptation to the world around them.
The center conducts different cultural events for this aim. Thus, in 2022, the employees of Atameken-Agro were invited by the management of the center to the New Year's performance "Morozko", where the children of the center took part. No one remained indifferent to the atmosphere, efforts and talent of the Ayalau children, because special children teach us to look at the world differently, making us a little kinder and more considerate.
The emotions from the meeting were so vivid that the employees of Atameken-Agro, represented by the Personnel Management Service, decided to organize a counter event at the Company's head office.
On March 2, 2023, an exhibition of art works by pupils of the Ayalau Center was held in the Conference Hall of Atameken-Agro JSC. The entire staff of the head office came to admire the works. The exhibits were surprising with their unconventional design, and high level of effort. Many employees wished to purchase creative works created by pupils with soul and love. Thus, the Company's team expressed their support and recognition to the creators of the works.
All the funds raised at the exhibition were sent directly to the authors of the works to give them the opportunity to develop their creative abilities. This charity event allowed the Company's employees to experience being part of the team that does a good deed and helps people in difficult life circumstances.
Atameken-Agro encourages its employees not to stay aside from such initiatives, because responsiveness, compassion and sensitivity are necessary qualities for the successful development of each person and the corporate spirit as a whole.